We look forward to our All-Church Retreat this weekend, Saturday, September 30-Sunday, October 1. Due to the retreat, we will not have in-person worship in Capitol Hill. We would love for you to join us in worship on Sunday morning at the retreat! Please email Jess if you are interested in driving up to the retreat center in Middletown, MD (about an hour and a half from DC). The worship service on October 1 will not be livestreamed.
The following week, we will return to worship at 9th & Maryland. Many of you have likely heard about the planned changes to our Sunday morning schedule this fall (see here for details). Beginning October 8, our Sunday morning programming will be as follows: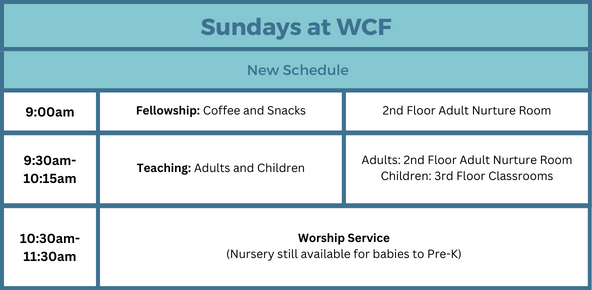 At the surface, it may simply appear to most as a later start time for our Sunday worship services and changing our children's programming to coincide with the Adult Nurture prior to the Worship Service. But there has been prayerful discernment by the Elders and Deacons informed by our vision to be a faith community gathered in Christ.
We hope that these components of Sunday mornings together will be a time of Formation and a time of Participation for all of us, whatever our age or grouping. We are excited to see how God will meet us in this season!